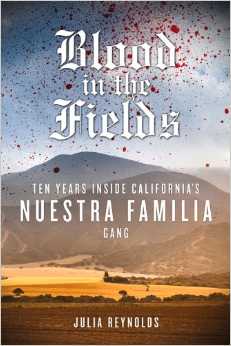 "Intense, intimate… A sprawling, literary true-crime effort."
— Kirkus Reviews
Coming Fall 2014 from Chicago Review Press:
Blood in the Fields: Ten years inside California's Nuestra Familia Gang.
It's now available for pre-order from your local independent bookseller or on Barnes and Noble, Powells.Com, and Amazon.
Request a reading or talk in your community.

Blood In The Fields is a fascinating yet troubling look at a generation grappling with identity. It is a powerful account of another Mexico within the United States, one crafted with sensitivity and sharp human insights. Julia Reynolds is a masterful storyteller.
— Alfredo Corchado, author of Midnight in Mexico and Dallas Morning News Mexico Bureau Chief
The story is both chilling and sad — so many lives lost, so many households ruined, and so many hearts torn apart. Blood in the Fields is a must-read for anybody interested in stopping the cycle of violence for safer communities.
—   Gabe Morales, author, trainer, gang specialist; founder, International Latino Gang Investigators Association
Reynolds' account of a decade-long embed inside one of the country's most opaque communities is thick with unprecedented real-life detail and drama. …an engrossing must read.
— Ricardo Sandoval-Palos, co-author of The Fight in the Fields: Cesar Chavez and the Farmworkers Movement.
~
~
~