For more about the book, including tour dates and ways to help end youth violence, see BloodInTheFields.com.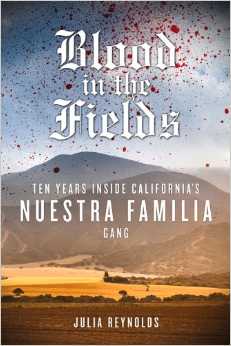 A fascinating yet troubling look at a generation grappling with identity… crafted with sensitivity and sharp human insights. Julia Reynolds is a masterful storyteller.
— Alfredo Corchado, author of Midnight in Mexico and Dallas Morning News Mexico Bureau Chief
Thick with unprecedented real-life detail and drama. …an engrossing must read.
— Ricardo Sandoval-Palos, co-author of The Fight in the Fields: Cesar Chavez and the Farmworkers Movement
Intense, intimate… A sprawling, literary true-crime effort.
— Kirkus Reviews
Blood in the Fields, my narrative nonfiction, fly-on-the-wall view of ten years inside one of the nation's most violent gangs, is published by Chicago Review Press. (here's CRP's Facebook page). Available from your local independent bookseller or on Powells.Com, Barnes and Noble, and Amazon.
It's an epic nonfiction soap opera of love, murder, betrayal, and the FBI — all taking place in California's beautiful Steinbeck County. It's a tale mostly told from the inside the gang and from its members' points of view.
More than anything, I hope the book will help people better understand how kids end up in this life. If we can't see the world from their eyes, we will never fix the problem.
Here's an excerpt, from a chapter called Chinatown.
I am represented by Andy Ross at Andy Ross Literary Agency.